> Home > What to visit > Churches and Monasteries
Cappella di Santa Fina interna al Duomo
San Gimignano
CHURCHES AND MONASTERIES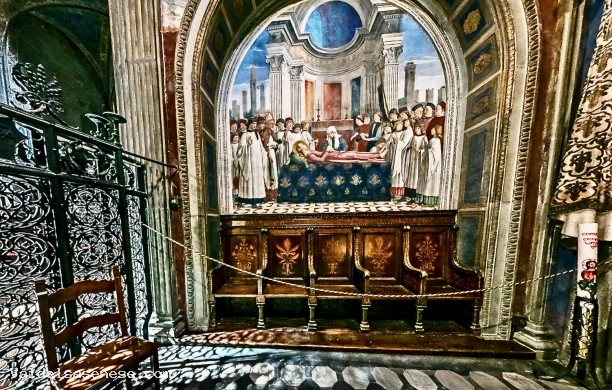 PHONE NUMBERS AND TIMES

Cappella di Santa Fina interna al Duomo


Business card (vCard)
The chapel of Santa Fina is located at the end of the right aisle of the collegiate church of San Gimignano and there are the relics of the saint. It is thus an important work of the Florentine Renaissance and was designed by Giuliano and Benedetto da Maiano in 1468.
The chapel has become famous for the cycle of frescoes by Domenico Ghirlandaio, made in 1475. The dating is based on an inscription on the altar, in which it is invited to look for the miracles of the saint on the walls: at that date the frescoes must therefore have been already finished.
The saint is buried under the altar which also serves as a monumental tomb, the work of Benedetto da Maiano, decorated with reliefs with scenes from the life of the saint.
The altar is surmounted by a tabernacle with a fine painting on leather of her portrait, the work of the Sienese Manno di Bandino of the early fourteenth century.
The urn above the tabernacle contained the saint's bones until 1738. The upper lunette is decorated with a Madonna and Child between two angels.
STAY

NEARBY
DINING & ENTERTAINMENT

NEARBY