> Home > What to visit > Churches and Monasteries
San Donato a Gavignano
Poggibonsi
CHURCHES AND MONASTERIES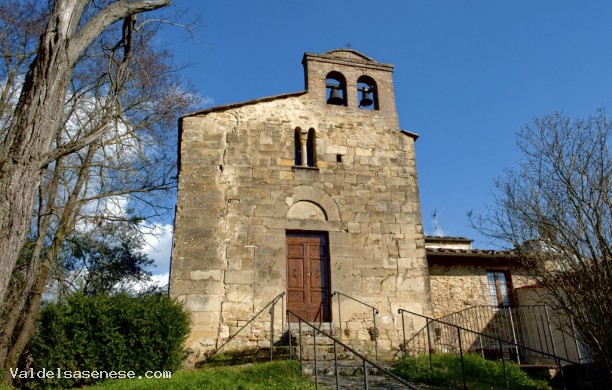 PHONE NUMBERS AND TIMES

San Donato a Gavignano
LocalitÓ Gavignano Poggibonsi



Business card (vCard)
The church of San Donato is a sacred building located in Gavignano
and it is particularly interesting because it belongs to what is called Romanesque minor architecture. It is located near what in the Middle Ages was the south-eastern border between the diocese of Florence and the dioceses of Siena and Volterra, along the ancient Via Salaiola.
The first documentary testimony on this church dates back to the donation made in favor of the abbey of Màrturi by the Marquis Ugo of Tuscany in 998. Subsequently, a farm in its territory was given to the abbey
The church of San Donato has a plan with a single rectangular hall originally completed by a semicircular apse and also had an entrance on the southern side which is now occupied by a farmhouse.
The gabled façade has a masonry facing of sandstone ashlars arranged on irregular horizontal courses and above the portal it is opened by a mullioned window, the result of the reassembly of authentic parts dating from the 12th century.
The underlying portal has a beautiful archivolt composed of nine pieces and resting on a monolithic architrave. A small belfry was then added to the façade. The northern side is the only one completely visible and shows a reddish-colored sandstone wall face with ashlars arranged in horizontal and parallel courses.
Unfortunately the apse was demolished in the nineteenth century because it was unsafe and the stones were used to build the wall of a vegetable garden. The roof is covered with simple wooden trusses.
STAY

NEARBY
DINING & ENTERTAINMENT

NEARBY